In March of 2005, Christopher Eccleston and Billie Piper made their debut in "Rose," the first episode of the Doctor Who reboot. Eccleston had a well-established television and movie career at the time of his casting. Piper was a pop music sensation with a record deal at the age of 15. She left music in 2003 to return to acting, her first love. In 2004 Piper won the role of Rose Tyler, companion to the 9th Doctor. Link to TARDIS Data Core for both Eccleston and Piper
Russell T. Davies, head writer and showrunner for New Who, has maintained that he had Eccleston in mind for the Doctor from the outset, though he was not certain Eccleston would want the part. Other actors considered for the role included Hugh Grant, Rowan Atkinson, Bill Nighy, and Allen Davies. Once Eccleston accepted, he took the script and built the Doctor's character around aspects of Davies' personality. "Fantastic," was Davies' favorite word. As further role preparation, Eccleston watched Tom Baker in "The Talons of Weng-Chiang" (1977). Yet Eccleston's Doctor had an edge that likely did not evolve from Davies or Baker. That edge is strictly Christopher Eccleston's. Steven Moffat, who wrote two episodes for the 2005 Series 1, called Eccleston "an amazing Doctor."
"What an amazing Doctor. This gritty, determined northerner. And he was written like a man in a pub. A clever man in a pub, but still a man in a pub." Steven Moffat on Christopher Eccleston, South Wales Evening Post
Moffat also weighed in on Billie Piper as Rose:
"It was Billie Piper who brought it back. I think those first two years, that was Billie Piper's show. It was all about Billie, and Billie as Rose. Russell [T. Davies] was so clever in creating that character and casting that character so perfectly."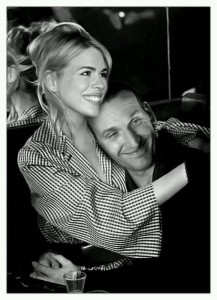 But was there chemistry between the two? Yes. Contest that if you will, but it is difficult to deny. What begins with a giddy school-girl seeking adventure continues with an unconditional connection. During "The Parting of the Ways," Rose looks into the Time Vortex and takes on the energy to save the Doctor. The episode ends in the Doctor kissing Rose to draw the energy, which forces his regeneration.
The BBC announced the casting of Billie Piper as Rose Tyler in May of 2004.
Julie Gardner, head of drama for BBC Wales in 2003, felt that Billie was perfect for the role Gardner called her a "unique, dynamic partner for Christopher Eccleston." Given her age and past history as a music pop star, many had a difficult time believing Piper was the final choice. Some fans felt that it may have been a publicity stunt.
Billie showed them just how real she was in "Rose" (official air date March 26, 2005), which drew in 10.81 million viewers within one week. Spurred by the success of the episode, the BBC made the decision to go ahead with Series 2. This was made public on March 30, 2005. In a stunning leaked release on the same day, the BBC announced that Christopher Eccleston would not be returning for the second series. While the BBC originally stated that Eccleston's reasons for leaving were based on his hesitation in being typecast, this was not an official statement from Eccleston. The faux pas likely was confirmation for Eccleston that his decision to leave was a good one. Eccleston did not see eye-to-eye with senior members of Doctor Who; however, he has stated that he was proud to have been able to play the role of Doctor.
What exactly was the relationship between the 9th Doctor and Rose Tyler? Eccleston put it this way:
"He loves her, simple as that. And she loves him. They both deny it, but her mother can see it. They're very similar, Rose and the Doctor: both carry a sense of loneliness. He allows her freedom—he's always encouraging her to experience things—but he expects a great deal of her, too. He's constantly telling her, 'If you want to travel with me, then don't become a burden.'" Christopher Eccleston, Radio Times
Christopher Eccleston and Billie Piper created a Doctor/companion team that helped to solidify Who's journey toward world-wide cult status. Love them or not, their legacy is undeniable.
Who fact: The world lost a great fantasy author this month: Sir Terence David John "Terry" Pratchett. Pratchett fell heavy on the critique of Doctor Who, saying it is "ludicrous and breaks most of the laws of narrative." Though he felt that Who embraced "makeitupasyougoalongeum," Pratchett continued to watch. Who can help themselves?